Until now there have been only guesses and ideas about the possible multiplayer of Cyberpunk 2077. Below we have gathered all the important information about multiplayer, co-op mode and split screen for you.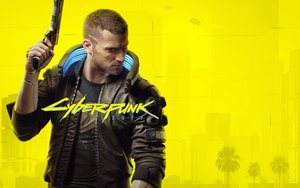 Languages:German English
release:10.12.2020
Platforms:Windows PC, Xbox One, PlayStation 4, PlayStation 5, Xbox Series X
A lot has happened at developer CD Projekt Red since the launch of Cyberpunk 2077. But there are still a lot of unanswered questions, especially when it comes to multiplayer.
What is known about the multiplayer and co-op mode so far?
Since the change of strategy by the developer CD Projekt Red, you can assume that the multiplayer will not appear as a standalone game. It's more of a DLC that brings online elements with it. This can also be seen from CEO Adam Kicinski's statement:
"We are changing our approach, we definitely want to have online elements in our next games, but step by step. We are working on adding such features to our single-player games, but we are not working on releasing the next game as an online experience. So we're going to enhance our single-player games with online experiences."
What the multiplayer component in Cyberpunk 2077 should look like is still completely unknown. It simply means that the online experience allows players to play with each other in some way. So there are no official details, so we don't know yet if this is a PvP or co-op mode.
The release of multiplayer mode
The above information already gives an idea that the developer has not yet made any concrete announcement. CD Projekt Red has also published a roadmap that goes all the way to 2022 and shows what content will be coming until then. Updates seem to take priority here, as the roadmap doesn't indicate a multiplayer release date: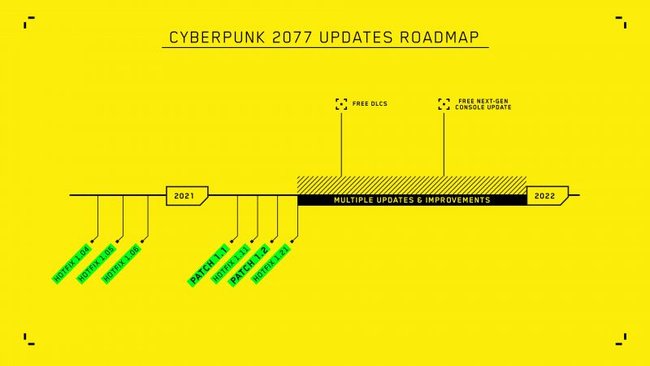 CD Projekt Red has yet to release any further information about multiplayer, but user "Rubz8r10" noted in a Reddit post that multiplayer was listed in the game's credits. However, here you can also recognize the work of people who unfortunately did not enter the game.
Are there microtransactions?
However, it is known that there should be microtransactions for Cyberpunk 2077 multiplayer, this has already been confirmed by the developer. However, CD Projekt Red is still keeping a low profile about their nature. Therefore, it is unclear whether it will only be cosmetic content, such as
However, it is said that they aim to "make players happy" and are offered "not aggressively". It is therefore reasonable to assume that the multiplayer mode can work without the Pay2Win mechanic or other purchasable in-game advantages. However, this is still pure speculation.
Important NOTE: All of the following information about Cyberpunk 2077's multiplayer was either revealed or found by Dataminer. Of course, this means that CD Projekt Red has yet to officially confirm them. Therefore, it is possible that the information below is not necessarily accurate and may change before the multiplayer is released. So take the following statements with a grain of salt.
What game modes can there be?
Deathmatch: data found text fragments indicating the existence of a lethal mode. As in other games, the goal is of course to finish the game with the most kills at the end of the match. Traditionally, in this PvP mode, players always fight everyone against everyone.
robberies: The second mode is also found in the game files and most likely, if you go by the name, it allows you to raid. Of course, it is not yet known exactly how this will work. It appears that you first gather with other players in a gathering area before starting the actual heist. So stealth may be more of a co-op variant, though it's still unclear if the mode has PvP or PvE elements.
Are there different classes?
Since Cyberpunk 2077 is an action RPG, the issue of classes naturally arises. The information that there should be at least 4 classes comes from the game files themselves. Whether there will be more remains to be seen. The following classes are said to exist:
killer
solo
Netrunner / Hacker
Technician
Classes must be unique and must always be occupied. Several passages of text indicate that the match will not start as long as a class is represented more than once. Therefore, in Heist missions there seems to be an emphasis on balancing different skills so that each player gets their role in the heist.
What about servers and split screen?
According to Dataminer, the evidence suggests so Cyberpunk 2077 will not have dedicated servers. Connections are thus created between players, i.e. a peer2peer connection.
There is currently no information about a possible split screen, but implementation is highly unlikely.
Will it get multiplayer DLCs?
As the analytics company M Science (via TheGamer) claims to have read from the developer's statements, the multiplayer can be expanded with free DLC. A principle not dissimilar to Grand Theft Auto Online should be followed.
This would mean that multiplayer DLCs would be free and further development of the mode would be funded by microtransactions. So apparently there aren't just single player extensions planned.