Attention Lego fans! MediaMarkt and Saturn are offering heavy discounts as part of Singles Day 2022, including a set for Batman fans. We have found the best offers for you.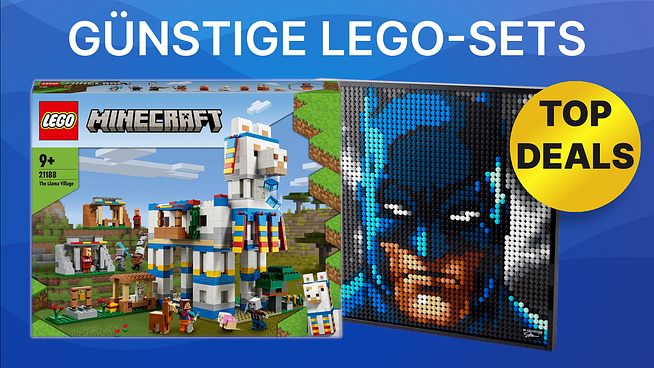 It's Singles Day 2022 and that means plenty of deals for you until 11.59pm this Friday. MediaMarkt and Saturn have now also discounted toys, giving Lego fans an early Christmas present. But which kits are really worth it?
» Singles Day 2022 at MediaMarkt*
Lego Viking Ship: In Thor's Footsteps
The Viking Ship with the Midgard Serpent from the Lego Creator series is currently available for €78.31. That's a 34% saving compared to RRP. The set contains 1192 pieces and belongs to the 3-in-1 series. Not only can you use it to build the elegant Viking ship and the Midgard Serpent, but also a Viking hut with dragons or a mighty wolf, strongly reminiscent of the wolf Fenris from "Thor: Ragnarok".
»Lego Creator Viking ship at MediaMarkt*
Instructions for the respective kits are included in the kit. Only the Viking ship makes a good impression on your shelf.
Lloyd's Ultra Gold Dragon: Ninjago fans also benefit from discounts
Of course there's also something for Ninjago fans. Lloyd's Ultra Gold Dragon comes in 989 pieces, including nine Ninjago minifigures. However, the highlight is the dragon, which has four heads and at 54 centimeters in length, is the largest dragon in the Ninjago series.
» Lego Ninjago Lloyd's Ultra Gold Dragon at MediaMarkt*
As part of Singles Day 2022, MediaMarkt is offering you 34% off the RRP of the Ultra Gold Dragon. So you still pay €97.89.
Apart from Aquaman: Will Jason Momoa be playing a second DC character soon? This is behind the Lobo rumor
Lego Minecraft Llama Village: Insider tip among Lego sets
One of the best current Lego series is the Minecraft series, which literally combines tradition and modernity. Because these kits do without unusual parts and rely on the classic Lego bricks that generations before you have built with.
» All Lego sets at MediaMarkt*
At the same time, the series is of course based on Minecraft and therefore should also attract many new fans. The llama village consists of 1252 pieces and includes both animal figures and minifigures. As a special treat, many pieces are printed. So you don't have to deal with countless stickers on parts.
» Lego Minecraft Llama Village at MediaMarkt*
Given the classic building blocks, Lego's Minecraft sets are also great for alternative ideas. MediaMarkt now offers you a 35% discount on the llama village and charges only €83.65.
Lego Art Jim Lee Batman: pure cult for the wall
One of the best comic book stories from the DC Universe is undoubtedly Jeph Loeb and Jim Lee's Hush. Now you can hang the iconic Lego graphic novel characters on your wall. The Jim Lee Collection makes it possible.
» Lego Art Jim Lee Batman on Saturn*
Lee drew the characters in "Hush" in his inimitable style. With the Lego set you can change between Batman, Joker and Harley Quinn. The finished squares have a side length of 40 centimeters at the bottom. The 4167 items on Saturn are currently reduced by 33% and still cost €79.21.
*Links to the MediaMarkt and Saturn offer are so-called affiliate links. If you make a purchase through these links, we will receive a commission.