We say goodbye to summer with a smile and a tearful eye. But let's just focus on the positive. For many, the end of summer also means that the new trend pieces for fall can be bought again. Now we're going to tell you what's hot in fall 2022 and should be at the top of your shopping list.
1. Fashion trend: sequins
Finally, our clothes can shine and shine again, not only when we go out, but also during the day. Nothing works this fall without sequins, spread across dresses, skirts, tops and accessories. Metallic and black tones are especially fashionable, because this is how the glitter particles come into their own and look mature.
Annie Carpendale does this and it looks super chic in a quilted top!
2. Fashion trend: pantsuits
Since many of us have spent a lot of time in the home office due to the pandemic, and our outfits usually haven't made it beyond the skimpy look, we're now craving more chic, back-to-office looks. so to speak. Minimalist pantsuits, blazers and pencil skirts are all on trend for fall 2022 and look modern and casual and not at all edgy thanks to on-trend colors and loose cuts.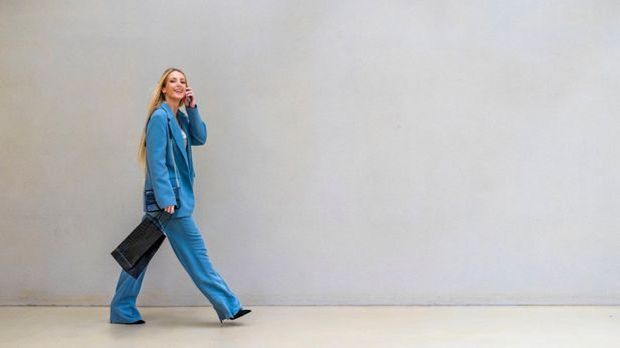 Styling tips: If you want, emphasize your waist with a belt. They can also be worn over a sports jacket.
3. Fashion trend: polo sweater
Knitted turtleneck sweaters and polos are new among the absolute trend pieces for Fall 2022. While turtlenecks were considered pretty stuffy for a while, it's this serious retro charm that makes the look trendy today. The classic cut of the collar with a sheet of buttons or V-neckline now looks very cute, especially with knitwear in a very loose cut. It is best to combine it with simple classics like jeans or trousers and wear some gold jewelry – ready.
By the way: With the color of your clothing you can influence how others perceive you. Read here what effect different colors have.
The fourth fashion trend: bright colors
Quite unusual actually, because after summer, rich colors usually disappear from the scene and let the typical, muted tones of autumn take precedence. This season, bright colors are also among the absolute fashion trends in autumn: Now we prefer to wear warm sunny yellow, bright fuchsia or retro orange from head to toe. Because solid colors and in straight cuts, solid colors look especially elegant – dare and just try!
Rebecca Mir does it and shines in a bright dress – super chic!
5. Fashion trend: ribbed knit
Whether it's a jacket dress, slipover or fleece, trendsetters will be wearing striped knitwear in autumn 2022. It beautifully adapts to the shape of the body, is soft on the skin and, despite its simplicity, has something special about it. How to combine trend knitting pattern? Wear ribbed knits with jeans or style them into a flattering all-over look. When it gets cooler, we wear a thin collar or a long-sleeved shirt underneath and are protected from the wind and cold.
6. Fashion trend: maxi skirts
Maxi dresses and skirts are back! Now you can safely store your minis in the closet and bring them out again next year, because in the fall of 2022 we will be wearing long, loose and flowy pieces. Simple maxi-length dresses and skirts give us instant elegance and glamour, and look cool, especially when contrasted with rockier pieces such as a leather jacket.
Loose cuts and flowing materials are also trending for pants this fall. Simple basics that can be wonderfully combined.
7th Fashion Trend: Statement Trench Coats
Of course, coats have been a classic for the transition period for years. But now they are experiencing a style update – many designers are playing with the conventional silhouette of the coat, for example using cuts or adding unusual applications. Two-tone designs, for example with darker sleeves, are also being seen more often at the moment. If you don't have a coat in your closet yet, you might finally want to buy one with the current trending designs. An investment for life.